Discover more from Memoir Land
Three verticals: Memoir Monday: A collaboration among Granta, Guernica, Narratively, The Rumpus, Orion Magazine, The Walrus, Electric Literature, Literary Hub, Oldster Magazine; First Person Singular original essays; The Lit Lab interviews + craft essays.
Over 23,000 subscribers
Don't miss our reading tonight!
Welcome back to Memoir Monday—a weekly newsletter and quarterly reading series, brought to you by Narratively, The Rumpus, Catapult, Longreads, Granta, and Guernica. Each essay in this newsletter has been selected by the editors at these publications as their best of the week, delivered to you all in one place. 
---
Join us tonight at 8pm est for an evening of readings from Porochista Khakpour, Amy Long, Sejal Shah, and Alia Volz! Click here to register for the event through Zoom—you'll receive an email confirmation with the password required to enter the event. (Apologies for the multiple steps—we're doing our best to keep out the Zoom trolls that have been bombing some events.)
And you can order the featured authors' books through our Bookpage.org affiliate page, here!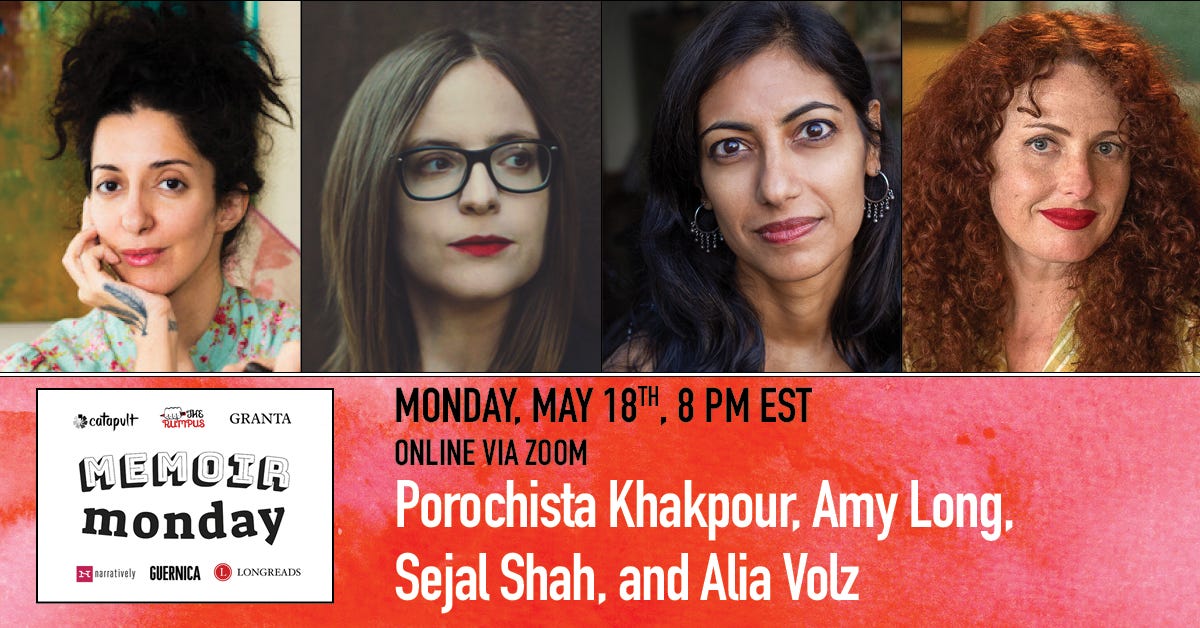 ---
Qualities of Earth
by Rebecca May Johnson
Allotment earth is like the cache on a public computer, it holds too much information. I feel like a haruspex, reading entrails as I pick through the things I've found there – things that have become internal to the plot because of those who were here before me. It is an almost gruesomely intimate process and summons one-sided conversations with people I can only know obliquely through what they have left behind. 
The Many Meanings of the Mango
by Jessica J. Lee
When I was nine, two decades after arriving in Canada with almost nothing, my parents turned the hard corner into wealth. It was a feat I could not understand then. They bought a second home: a condo with a mango tree on an island off the coast of Florida. From then on, they eschewed the option of visiting their home countries—Taiwan and Wales—and decided that we would spend every school holiday and summer vacation at the condo. I asked my father if this meant we were rich, but he replied simply that it was inappropriate to talk about money.
My Unhealthy Obsession with My Dead Middle School Crush
by Candace Opper
During the six months our lives had overlapped, I thought I'd come to know Brett well, but the truth was that I'd known him only as the sum of details an infatuated teenage girl picks up on: the contents and rotation of his wardrobe, the path of hallways he navigated between classes, the kind of car his mother drove when she picked him up from school. I believed I needed these details to defend the depth of my devotion in the hypothetical battle for his affections.
Self Portrait With iPhone
by Pam Mandel
Consensus is that the light is good inside your car — it's even and diffused. You might be on your way to or from an important event, one that requires you to clean up, whatever that means for you. You look in the mirror, check your teeth, and think, "Hey, I look good." Your phone is right there, in the dash-mounted bracket, perfect for a selfie.
Voices on Addiction: Call Us Beautiful
by Vanessa Mártir
Teresa was different when she was high. Once, she balanced herself on a fire hydrant, arms spread wide like wings, she laughed loudly, hair wild, she looked like something straight out of a circus act. She always danced and sang when she was high, eyes closed, mouth in a big smile—it was the only time she wasn't ashamed of her rotting teeth. "Todo tiene su final. Nada dura para siempre. Tenemos que recordar que no existe eternidad…" As the song went on, her smile became a frown and tears came, soft and quiet. I'd watch her and wonder at how beautiful and sad she was at once.
Will COVID-19 Strengthen Our Bonds?
by Jennifer Stitt 
With chronic illness, there is an ever-present camouflaged grieving. This kind of grief has its own rhythms. It rises and falls, pulls you out to sea, threatens to drown you. When you get sick and discover suddenly that the shadow and act of your life will be radically different from anything you had previously imagined, planned, or hoped for—well, that is its own kind of unending loss. 
---
Thanks for reading! If you enjoy Memoir Monday, please consider making a one-time or recurring contribution (if even a fraction of subscribers signed up to contribute $1 per month, Memoir Monday could be self-sustaining!) by clicking here.
You can also support Memoir Monday—and indie bookstores!—by browsing this Bookshop.org list of every book that's been featured at the Memoir Monday reading series. It's a great place to find some new titles to add to your TBR list!

---
If you received this email from a friend or found it on social media, sign up below to get Memoir Monday in your inbox every week!