Discover more from Memoir Land
Three verticals: Memoir Monday: A collaboration among Granta, Guernica, Narratively, The Rumpus, Orion Magazine, The Walrus, Electric Literature, Literary Hub, Oldster Magazine; First Person Singular original essays; The Lit Lab interviews + craft essays.
Over 23,000 subscribers
Dragon kings and fresh starts
Welcome back to Memoir Monday—a weekly newsletter and quarterly reading series, brought to you by Narratively, The Rumpus, Catapult, Longreads, Tin House, Granta, and Guernica. Each essay in this newsletter has been selected by the editors at the above publications as the best of the week, delivered to you all in one place. It may be the start of a new work week, but at least we have this great new writing to get us through it.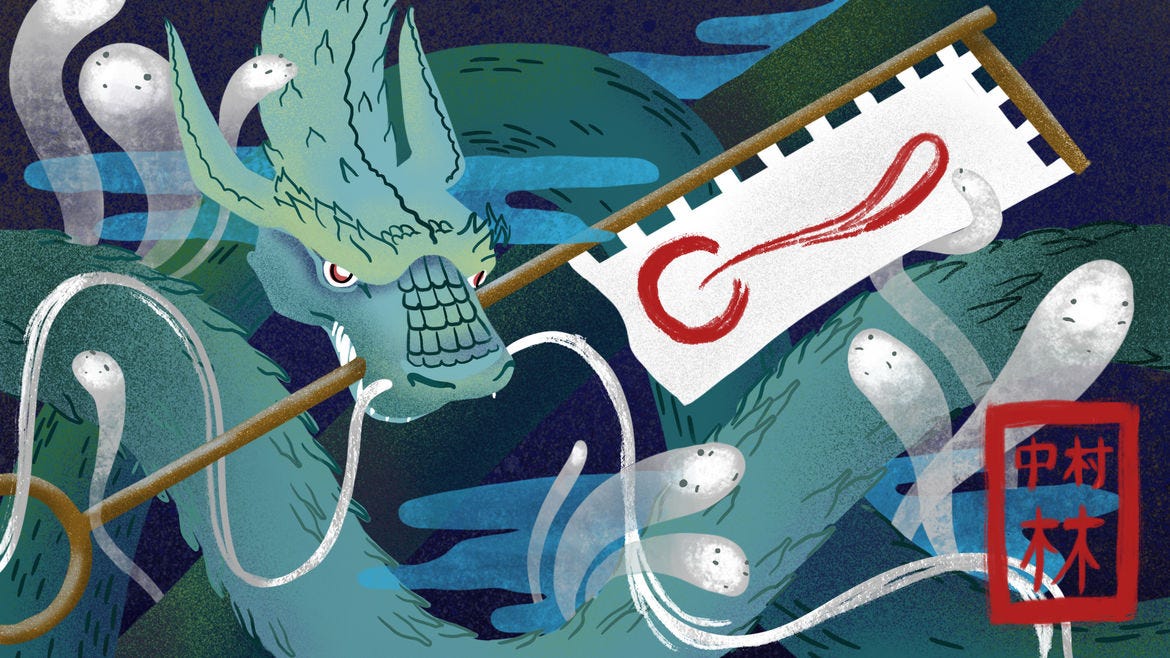 My Father and the Dragon King
by
Jami Nakamura Lin (art by Cori Lin)
Once upon a time, many years ago, the people of Japan knew a fundamental truth: that the sea was coming for them. It was not their enemy—as an island people, much of their livelihood depended on fishing—but it was not their friend. The ocean was to be revered, the kind of reverence that looks a lot like fear.
I Quit My Job at 50 to Reinvent Myself. Pro Tip: Don't Do This.
by Ivy Eisenberg
A shiver grips me. If I put my own name in, I may get seven months of severance, surely enough to reinvent myself. I'm turning 50, for god's sake. I have half of my life ahead of me to do something brilliant and be profiled in MORE. I could do this! My neck gets hot, my eyes burn, and I type…
Geography of Peaks and Dips and Lights
by Lana Spendl
Leaning over me to look out the airplane window, my mother pointed at the mountains surrounding Sarajevo. "Look! Look!" she said. Moments before, she had been a middle-aged woman leafing through a magazine with her glasses low on her nose. Now, she was like a child at a household doorway, excited at the arrival of a long-awaited family friend.
If My Scars Could Talk
by Tega Oghenechovwen
I am 7. B is 8. We are on the balcony of this monstrous brick house, naked. Our small bodies are soaking in gasoline. Our shirts, shorts, and shoes are on the concrete balustrade with our bags. A Good Samaritan who found us at the bus park trying to run for our lives just dragged us back. B's teeth are inside his tongue. His eyes are liquid red. Tears and gasoline have washed away my sense of smell.
---
Thanks for reading! If you enjoy Memoir Monday, please consider making a one-time or recurring contribution (if even a fraction of subscribers signed up to contribute $1 per month, Memoir Monday could be self-sustaining!) by clicking here.
---
If you received this email from a friend or found it on social media, sign up below to get Memoir Monday in your inbox every week!
Until next Monday,