Discover more from Memoir Land
Three verticals: Memoir Monday: A collaboration among Granta, Guernica, Narratively, The Rumpus, Orion Magazine, The Walrus, Electric Literature, Literary Hub, Oldster Magazine; First Person Singular original essays; The Lit Lab interviews + craft essays.
Over 23,000 subscribers
Mental health, real love... and 20% off writing classes
Welcome back to Memoir Monday—a weekly newsletter and monthly reading series, brought to you by Narratively, The Rumpus, Catapult, Longreads, Tin House, Granta, and Guernica. Each essay in this newsletter has been selected by the editors at the above publications as the best of the week, delivered to you all in one place. It may be the start of a new work week, but at least we have this great new writing to get us through it.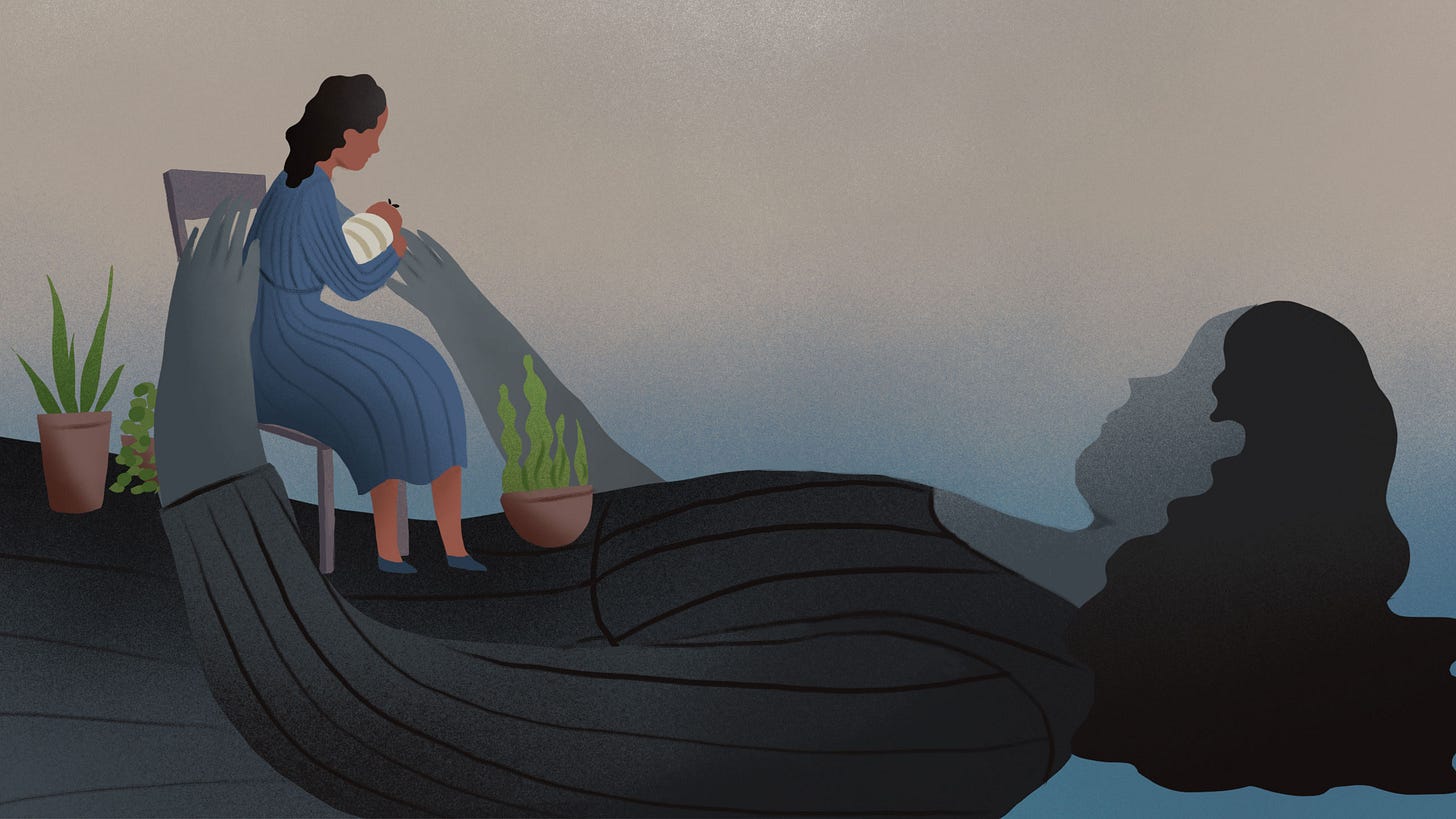 I Had a Postpartum Mental Breakdown—and Was Convinced I Was Dead
by Mandi Em (art by Nicole Xu)
My sense of self completely shattered as I came to a horrible and terrifying conclusion: What if the last time I'd attempted suicide, I'd been successful, and everything that had happened since then was a lie? The hum that had been relentlessly vibrating in my mind quieted only when this realization fell upon me in the midst of all the chaos.
I was dead.
'To Be Well': An Unmothered Woman's Search for Real Love
by Vanessa Mártir
My relationship with Katia is the first where I am not clawing for the love of an emotionally unavailable person, like I've done so many times in the past, repeating the "love me, please love me" cycle I learned from my relationship with my mother. This doesn't matter to my mother. It doesn't matter that Katia shows up for me, is supportive, kind, and reliable. It doesn't matter that Katia loves my daughter, so much so that she included her in her wedding vows, turning to her and promising to love her and be there for her like her own. 
Voices on Addiction: Jokerman
by Dorian Fox
My family rarely throws the word addiction around. If we do, it is whispered. As teenagers, my sister and I rolled our eyes at slurred words and goofy antics. When we saw a plastic bag pulled tight around a handle of gin, we thought about the act of consumption itself, and its most obvious effects. Neither of us had much experience with substances, then. A warm forty behind a church. A drag or two off of a mentholated Marlboro. We were old enough to recognize symptoms of dependence, but too young and self-involved to wonder about its causes, the reasons someone we loved might have for seeking relief, escape, oblivion.
What We Don't Talk About When We Talk About Mental Health and Medication
by s.e. smith
Would I have taken the drug at the very start, knowing what came later? Yes, I would have, but I wish I had known, because I would have gotten treatment at the first warning signs.
A Language of Figs
by Sema Kaygusuz
Like everyone, I too am made of language. I remember how I came into being like it was yesterday: as a single sentence, head to toe. My mother told me she felt the seed take root the instant I flashed like a spark in her womb, when my father whispered into her ear, 'A girl.' I felt an unbridled sense of gratitude as I listened to this story, felt the joy of being beckoned lovingly into this world. From that day forth, I gained a newfound respect for all the creatures I encountered in the world, each bestowed with its own unique significance. 
---
Writers' Resources
---
RSVP now for the next Memoir Monday reading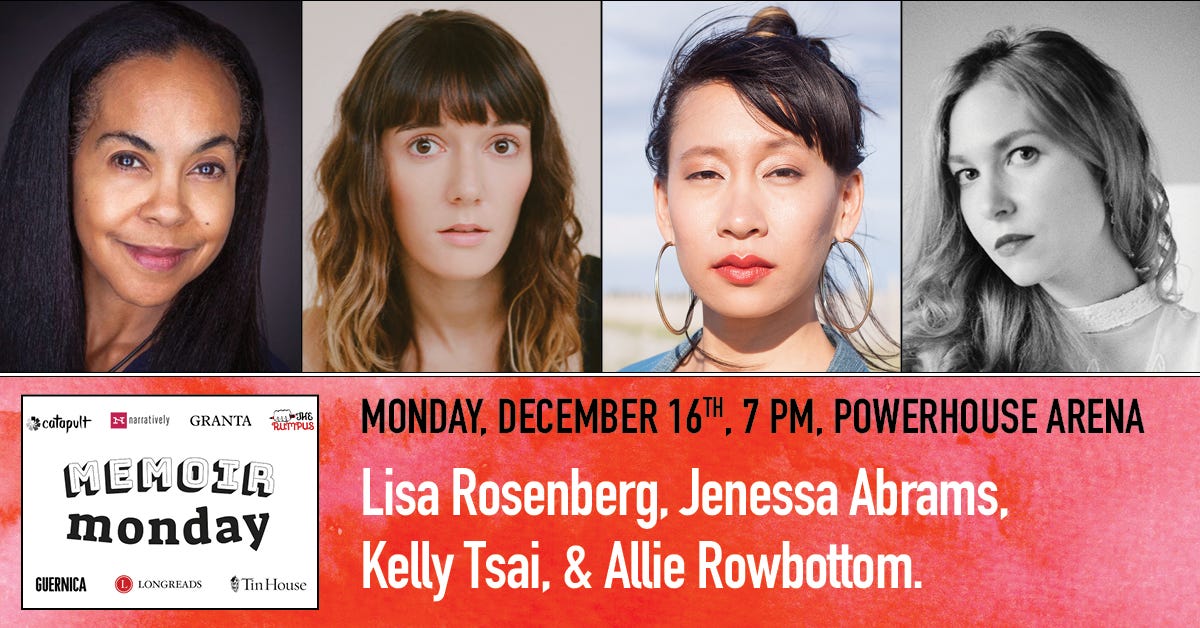 ---
Thanks for reading! If you enjoy Memoir Monday, please consider making a one-time or recurring contribution (if even a fraction of subscribers signed up to contribute $1 per month, Memoir Monday could be self-sustaining!) by clicking here.
---
If you received this email from a friend or found it on social media, sign up below to get Memoir Monday in your inbox every week!
Until next Monday,