Discover more from Memoir Land
Three verticals: Memoir Monday: A collaboration among Granta, Guernica, Narratively, The Rumpus, Orion Magazine, The Walrus, Electric Literature, Literary Hub, Oldster Magazine; First Person Singular original essays; The Lit Lab interviews + craft essays.
Over 23,000 subscribers
Secret sisters, a doll magazine, and Afrofuturism
Welcome back to Memoir Monday—a weekly newsletter and monthly reading series, brought to you by Narratively, The Rumpus, Catapult, Longreads, Tin House, Granta, and Guernica. Each essay in this newsletter has been selected by the editors at the above publications as the best of the week, delivered to you all in one place. It may be the start of a new work week, but at least we have this great new writing to get us through it.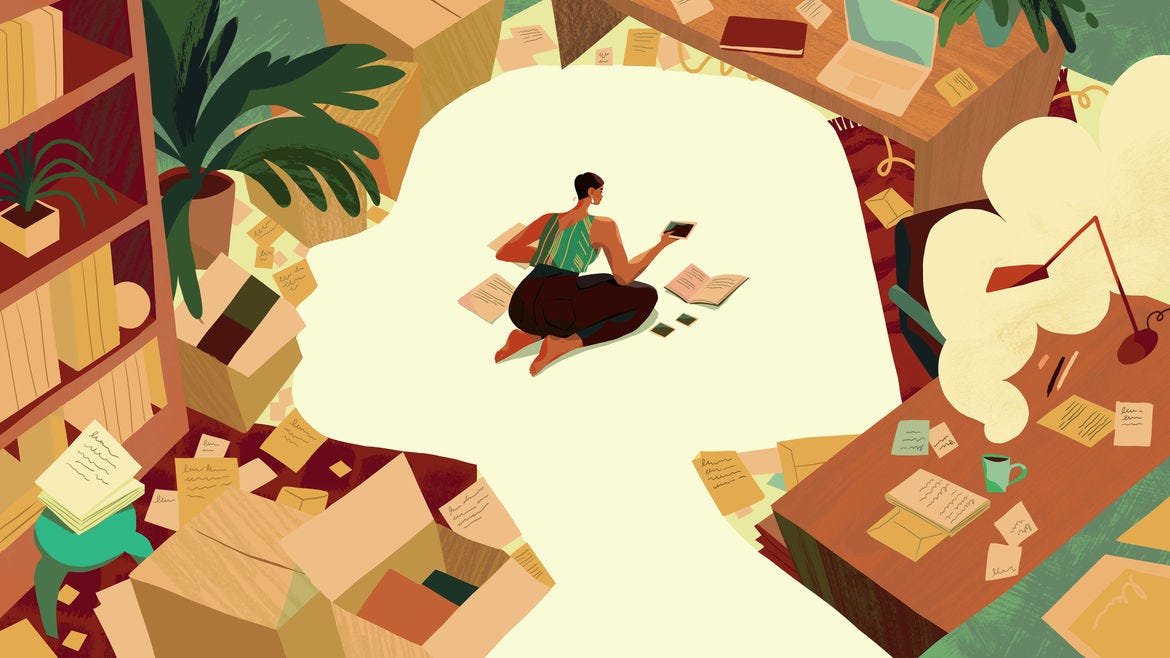 What I Found When I Searched for My Long-Lost Sister
by Cinelle Barnes (art by Kim Salt)
Sometimes, early in the morning or late at night, her name would come to mind and feelings of jealousy would rush in. I'd feel possessive of Mama, wanting to be her only girl. But immediately after, I'd feel guilty for knowing our mother at all. I was the lucky one, I'd begin to think. Lucky to have known our mother's name, mannerisms, voice, face.
My Brown Dad Voted for Trump
by Anjoli Roy
Today, my dad, the source of our brownness, is a marker of how I understand myself. I grew up the lightest of my dad's three girls — the one who looked least like him. Maybe that's why I reach for him so much: I don't want to get swallowed up with Mom's side of the family, locked in with the white folks. I have learned to subject him to the same critiques I aim at my own body. In some ways, his story is my story. Sometimes, it feels like we're both half-told, bleeding onto blank pages.
Exile
by Elif Shafak
'It's not working,' the teacher said one day in the middle of spring. She looked tired and somehow older. I knew she was disappointed in me. 'There is no other way. We must send your left hand into exile.'
'Where?' I asked anxiously. Here was another word I had never heard before.
'Yes we must.' She nodded her head, agreeing with herself. 'We'll pretend your left hand has gone to another country.'
I was flabbergasted. How could one part of me be somewhere else while the rest of me was here? How could I be whole if I remained divided?
Afrofuturist Triptych for My Mother
by Delali Ayivor
It starts with the car. Picked out gleaming in aubergine on a gently used lot in Houston, Texas, it arrives in the land of red earth stillborn. Thieves stripped everything of use from it; the dashboard is a mess of exposed wires and cracked motherboards. Looking at it, one is in awe that so much chaos could add up to something functional. But this is as West Africa is, constantly trapped somewhere in the binary of finite and fracture. 
My Secret Life as a Reporter for "Doll Reader" Magazine
by Toni Fitzgerald
I experienced reverse imposter syndrome during that meeting. I didn't worry that I wasn't good enough to do this job, but rather that I was too good for the job, and other people weren't recognizing it. Why did they assume I loved dolls? Ick. I went out of my way to mention my academic credentials during the meeting, as if to underscore how I didn't belong. 
Artist In Residence
by Lawrence Levi
When I was nineteen I shared an apartment in Manhattan with the jazz singer Annie Ross, and it led to my doing something I now wish I hadn't. She was fifty-eight at the time. It was 1989. We were on the sleepy northern end of York Avenue in a giant postwar building, one with a semicircular driveway in front and two columns of balconies on the facade. The apartment belonged to my girlfriend's step-grandmother, who lived off and on in Los Angeles. Annie was an old friend of hers and would usually stay there when she visited New York. I was doing an open-ended apartment-sit, looking after the cat. One day my girlfriend said that Annie was coming to town and would be staying with me for a while. I had met her on one of her previous visits—she was friendly and husky-voiced, with a big laugh—so I was fine with the idea. Not that I really had a choice.
---
The next Memoir Monday reading will be on Monday, December 16, at Powerhouse Arena, featuring Lisa W. Rosenberg, Jenessa Abrams, Kelly Tsai, and Allie Rowbottom! RSVP here.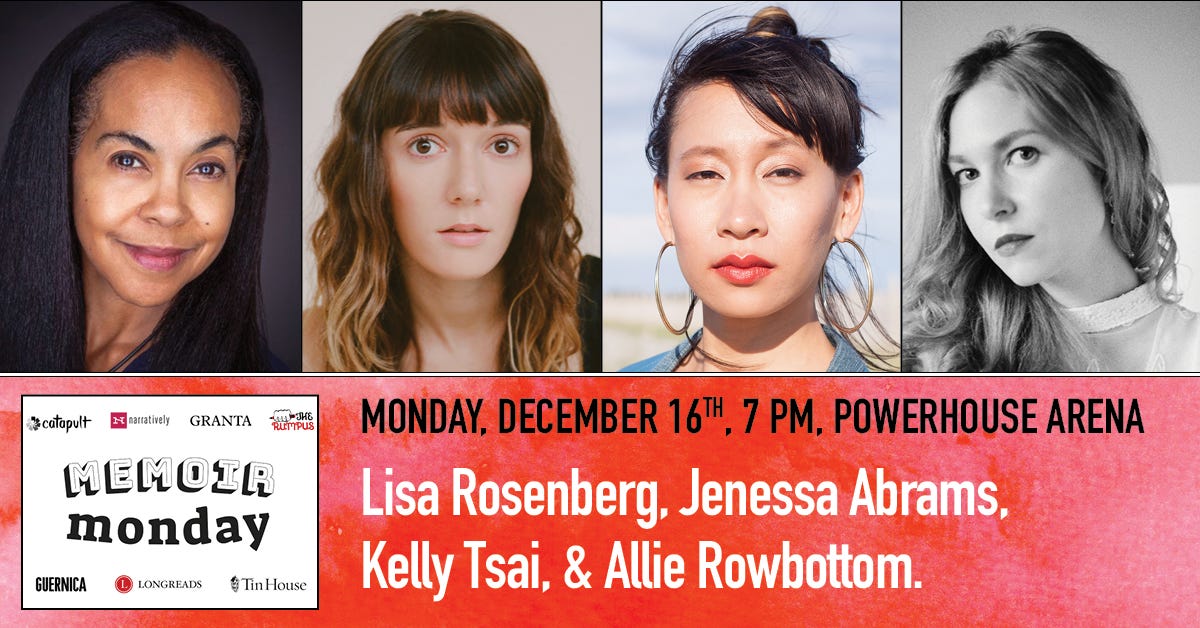 ---
Thanks for reading! If you enjoy Memoir Monday, please consider making a one-time or recurring contribution (if even a fraction of subscribers signed up to contribute $1 per month, Memoir Monday could be self-sustaining!) by clicking here.
---
If you received this email from a friend or found it on social media, sign up below to get Memoir Monday in your inbox every week!
Until next Monday,